Cart for Pacemaker Programmers
Every manufacturer of pacemakers and defibrillators provides its own programmer for reading and programming of pacemakers and defibrillators (St. Jude Medical, Boston Scientific, Medtronic, Biotronik, Cameron Health, Ela Medical, Sorin Group). These programmers are usually suitable for a range of products of this particular manufacturer. This results in a setup of several programmers in the treatment rooms for patients with a pacemaker or defibrillator. This way the right programmer can be chosen for each patient.
A permanent arrangement of programmers on a cart, as shown in the image, makes it easier the operate the required programmer. In this configuration all programmers are place on fully extendable trays, making them quickly deployable. Because of the isolation transformer on the cart, all programmers can be enabled simultaneously in a safe manner.
For digitally processing and managing of ICD and pacemaker data, systems of Spike Medical Solutions (http://www.spike-ms.nl/) will be used. The PrinterSpike can be used to send the printer data to a PC or network. The data of all programmers positioned on the cart, is send to one PC for further processing.
The above mentioned applications are configurations based on our standard medical carts. These standard carts are modular in design, allowing to create any configuration according to customer specification. This means that the displayed cart configurations can be adjusted as desired. This includes for example removing or adding a shelf, bottle bracket or other components. In case a desired item is not part of our standard product range, it is also possible to deliver custom made parts. In this case we can design the required item, and produce this design for you. Please contact our sales department to discuss the possibilities.
---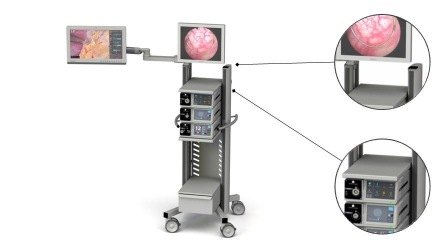 Crozz two 2G 320 with customized top
Covers on both side covers instead of the standard bridge
Custom top shelf without a central power switch and fuses
Custom socket strip with power switch
Composition
Geen samenstelling beschikbaar, kies een andere afbeelding.
The above selected configuration is composed of selected items listed below. Please consult the available documentation under the tab "Downloads" for more information. Feel free to contact us, we will be happy to assist.
- Flexx three equiipment cart for Pacemaker and ICD programmers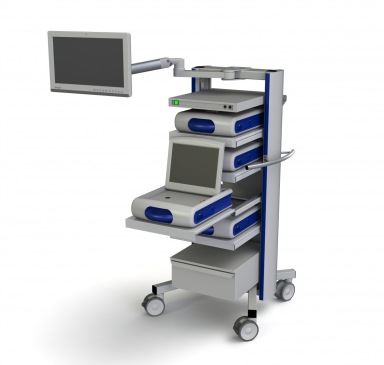 Crozz two 2G 430 Pacemaker Programmer cart
Flexx two 43-100 for pacemaker programmers