Procedural Sedation and Analgesia (PSA)
This car is designed for a new field of anesthesia "the Procedural Sedation and Analgesia". This cart integrates monitoring and dosing equipment for airway management in a safe, compact and easy accessible way. The monitor (GE Dash 5000) and the PDMS monitor are centrally mounted onto two swivel arms. Underneath the monitors a laptop with mouse and keyboard can be placed. The standard runners can be used to fit syringe pumps (Alaris) and clocks for suction equipment. When the supply of oxygen from a wall outlet is absent, the equipment can use the gas cylinder located on the botton of the cart. The 2 liter bottles bracket is mounted to the rear of the trolley. The Ambu balloon and water-set are located at the side of the cart, to make them easily accessible. On the side of the tray is an aspiration device (Laerdal Suction Unit) installed. The aspiration unit, the monitor and the PDMS monitor are connected to the electrical socket strip of the car. Only one power plug is used to power cord all equipment on the cart.
The above mentioned applications are configurations based on our standard medical carts. These standard carts are modular in design, allowing to create any configuration according to customer specification. This means that the displayed cart configurations can be adjusted as desired. This includes for example removing or adding a shelf, bottle bracket or other components. In case a desired item is not part of our standard product range, it is also possible to deliver custom made parts. In this case we can design the required item, and produce this design for you. Please contact our sales department to discuss the possibilities.
---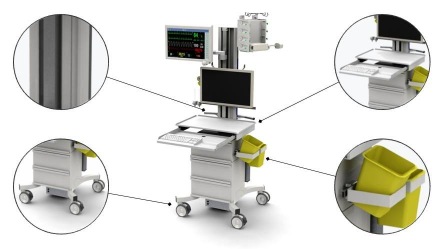 Crozz one 150 with various modifications
Extra long stand
Wider undercarriage for more stability
Customized worktop with pull-out shelf for keyboard and mouse
Customization holders for waste bin and needle waste bin
Composition
Geen samenstelling beschikbaar, kies een andere afbeelding.
The above selected configuration is composed of selected items listed below. Please consult the available documentation under the tab "Downloads" for more information. Feel free to contact us, we will be happy to assist.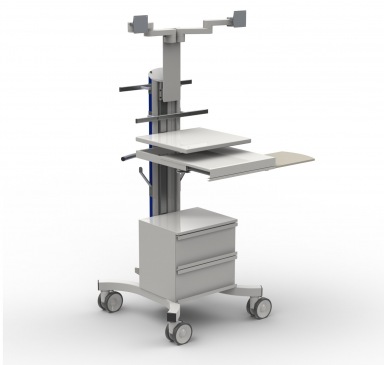 - Crozz one 2G 150 - Sedation cart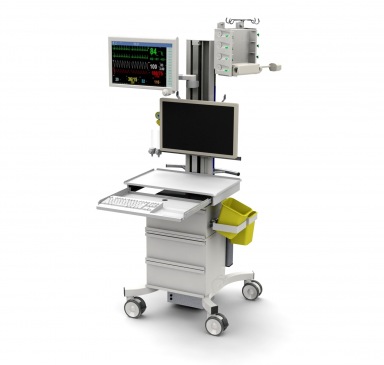 Crozz one 2G 150 Sedation cart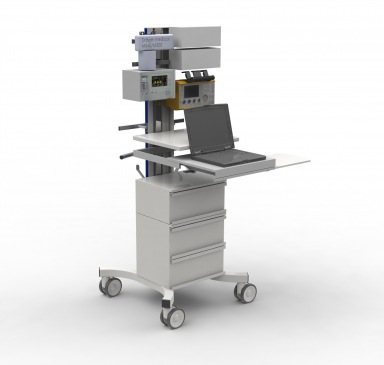 - Crozz one 2G 150 - Sedation equipment cart
- Crozz three 650 - Sedation equipment cart