Minimally invasive surgery
For minimally invasive surgery, multiple medical devices are needed. Usually these devices are placed on a medical cart. The exact composition of the various devices is determined by the surgical procedure that is carried out with the equipment. Application areas include: Laparoscopy, Orthopaedics, Thoracoscopy, Gynaecology, Urology and Arthroscopy.
For these applications at least a camera, a processor, and a light source is needed. Depending on the surgical procedure, specific equipment is added to the cart, such as a suction pump or an insufflator. In most cases, the cart is equipped with monitors, including the display of the surgical image and a terminal for the Patient Data Management System (PDMS).
Equipment from many manufactures is available for these cart setups. In some cases equipment from different manufacturers is combined. Known manufactures of equipment for minimally invasive surgery include: Karl Storz, Smith & Nephew, Richard Wolf, Lemke, Olympus and Stryker. Devices from all these suppliers can be used to create a compact cart configuration, taking the specific discipline into account.
The cart used for these applications are based on two Crozz cart. This cart is designed as a compact solution to set-up equipment in the operating room. Due to the modular concept, a cart can be configured according to specifications and therefore suitable for the realization of the optimal mobile setup for the OR.
The above mentioned applications are configurations based on our standard medical carts. These standard carts are modular in design, allowing to create any configuration according to customer specification. This means that the displayed cart configurations can be adjusted as desired. This includes for example removing or adding a shelf, bottle bracket or other components. In case a desired item is not part of our standard product range, it is also possible to deliver custom made parts. In this case we can design the required item, and produce this design for you. Please contact our sales department to discuss the possibilities.
---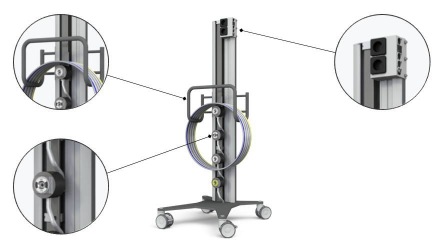 Patch panel, hose reel and gas connection
Tailor-made patch panel with 230V sockets
Custom hose reel
Gas outlets with tailored mounting bracket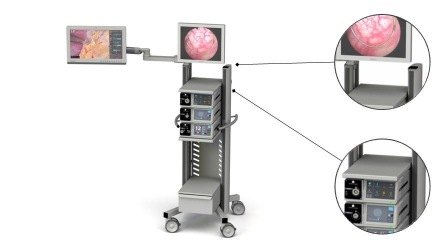 Crozz two 2G 320 with customized top
Covers on both side covers instead of the standard bridge
Custom top shelf without a central power switch and fuses
Custom socket strip with power switch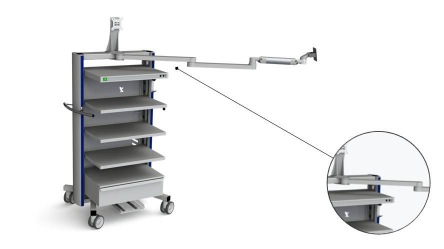 Crozz equipment cart with extra long monitor arm
3Easy arm with customized long first extension
The length of the first extension is 65cm, this makes the total length of the arm 175cm.
Suitable for screens up to 12kg
Composition
Geen samenstelling beschikbaar, kies een andere afbeelding.
The above selected configuration is composed of selected items listed below. Please consult the available documentation under the tab "Downloads" for more information. Feel free to contact us, we will be happy to assist.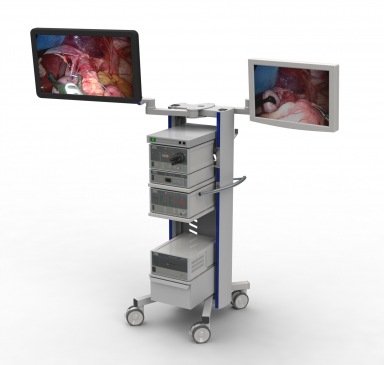 Crozz two 2G 320 Karl Storz Karl Storz Equipment cart for 3D endoscopy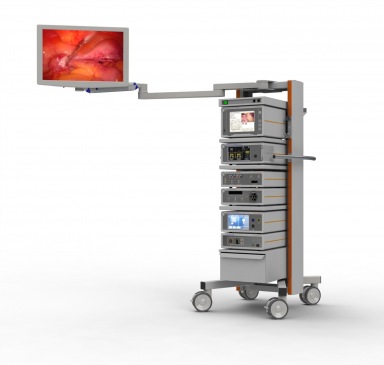 Crozz two 2G 320 Smith&Nephew cart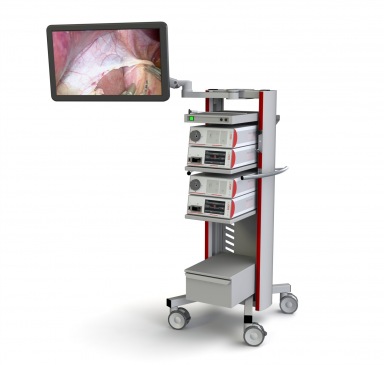 Crozz two 2G 320 Richard Wolf trolley with 32" 3D surgical screen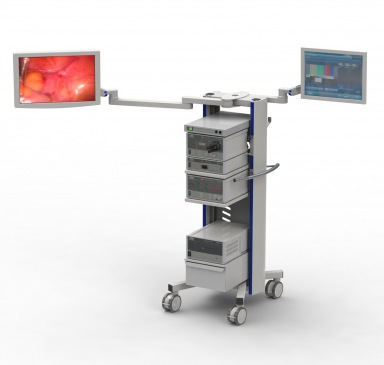 Crozz two 2G 320 Karl Storz trolley with short and long monitor arm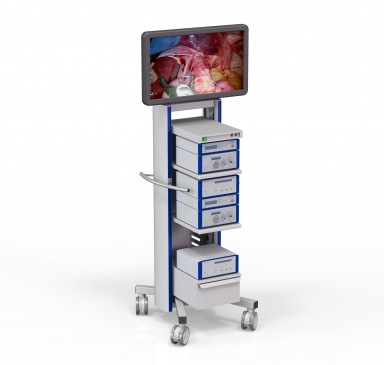 Crozz two 2G 320 Aesculap cart with central monitor