Virtual Reality cart
Virtual Reality (VR) is a hot topic in the entertainment industry! However, there are also medical applications where a VR glasses like the Oculus Rift or HTC Vive can be used. Currently there is a rise of virtual reality in medicine. There are several studies for applying VR, such as in education and in pain relief. The medical application of Virtual Reality often requires a mobile medical set-up. Jansen Medicars has developed a special cart for these applications.
For several years, doctors have the opportunity to perform virtual surgery using simulators. The use of simulators as an application or a serious game is relatively new. Radboud University Medical Centre in the Netherlands in conducted an investigation into the use of Virtual Reality using the Oculus Rift VR goggles. This research focused on learning new justified in the field of Laparoscopy through a so-called Serious Game.
Other uses derive from the high degree of distraction which gives the VR goggles. This distraction appears to be very useful in pain relief. At the burn center of the Martini Hospital (Groningen, Netherlands) VR goggles are used to relieve pain during bandage changes. The Martini Hospital also conducts research in using VR in pain relief during endoscopic examinations and procedures. The first indications of this research show that there is indeed less sedation required for patients using a VR glasses.
When using a VR setup in pain relief, next to the VR glasses, a computer, monitor, mouse and keyboard is needed. In most cases, it is desirable to be able to move this arrangement to the patient. From the viewpoint of hygiene, it is desirable to place the equipment and the cabling in a sealed housing as much as possible. For the Oculus Rift are special computers available, called "Oculus Ready PCs." These computers meet the specifications that are necessary for the VR goggles. The problem is that these are not designed for medical applications and therefore do not meet the standards for electrical safety as defined in de NEN/EN/IEC60601-1 (Medical electrical equipment - Part 1: General requirements for basic safety and essential performance).
For the deployment of the Oculus Rift in a medical environment Jansen Medicars has developed a special computer cart. This cart is provided with a large computer compartment that -for a good accessibility of the computer- is on either side provided with a door. The cart is equipped with a medical isolation transformer, to meet medical standard NEN/EN/IEC60601-1. The top side of the computer compartment is the worktop on which the keyboard and the mouse is used. The display is fixedly mounted to the cart with a VESA75/100. The cart is also equipped with an ergonomic handle and good rolling 100mm wheels casters, of which the front two are lockable.
The above mentioned applications are configurations based on our standard medical carts. These standard carts are modular in design, allowing to create any configuration according to customer specification. This means that the displayed cart configurations can be adjusted as desired. This includes for example removing or adding a shelf, bottle bracket or other components. In case a desired item is not part of our standard product range, it is also possible to deliver custom made parts. In this case we can design the required item, and produce this design for you. Please contact our sales department to discuss the possibilities.
Composition
Geen samenstelling beschikbaar, kies een andere afbeelding.
La configuration ci-dessus sélectionnée est composé d'éléments de la liste ci-dessous. Merci de consulter la documentation disponible sous l'onglet "Downloads" pour plus d'informations. N´hésitez pas à nous contacter, nous serons heureux de vous aider.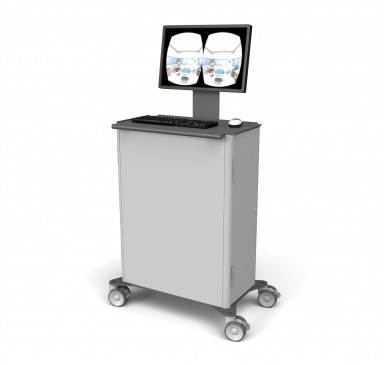 - Chariot de réalité virtuelle sur mesure