Flexx one IV+
The Flexx one IV + is a versatile IV Pole or Infusion Pump Stand that is suitable for use on intensive care and medium care units, and operating rooms. This floor stand has a low center of gravity and is therefore very stable. Due to the 100mm double wheels casters, the IV pole is very easy to move.
The Flexx one IV+ floor stand is standard equipped with 8 hospital grade outlets with earth potential equalization. The stand is suitable for both conventional infusion bags as well as infusion pumps and other medical electrical equipment such as a ventilator, patient monitor or suction unit. The power outlets are located at the rear side of the IV pole. This makes the power plugs good accessible even when the equipment is installed. This set-up of power outlets results in a much lower change of fluid getting in the outlets at possible leakages. The power outlets are placed high on the IV-stand enabling short power cords to connect to the devices, whereby the cords are well hidden in the cable duct. Moreover, this set-up enables the use of gas cylinders on the stand base (including oxygen), where there is sufficient distance between the electrical connections and the gas system. The floor stand can be supplied with a 5 meter Jobarco CareFlex power cord, firmly mounted on the IV pole.

The equipment on the IV pole often has a built in battery which can power the device for a few hours. It is therefore not clearly indicated whether the device is running on batteries ore on main power. As an aid the green lamp on top of the stand lights up when the IV stand is connected to an electrical outlet.
The above mentioned applications are configurations based on our standard medical carts. These standard carts are modular in design, allowing to create any configuration according to customer specification. This means that the displayed cart configurations can be adjusted as desired. This includes for example removing or adding a shelf, bottle bracket or other components. In case a desired item is not part of our standard product range, it is also possible to deliver custom made parts. In this case we can design the required item, and produce this design for you. Please contact our sales department to discuss the possibilities.
Composition
Geen samenstelling beschikbaar, kies een andere afbeelding.
La configuration ci-dessus sélectionnée est composé d'éléments de la liste ci-dessous. Merci de consulter la documentation disponible sous l'onglet "Downloads" pour plus d'informations. N´hésitez pas à nous contacter, nous serons heureux de vous aider.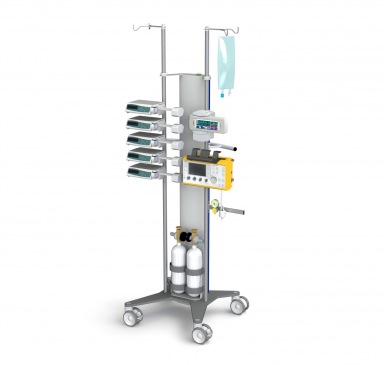 Flexx one IV+ Support de pompe à perfusion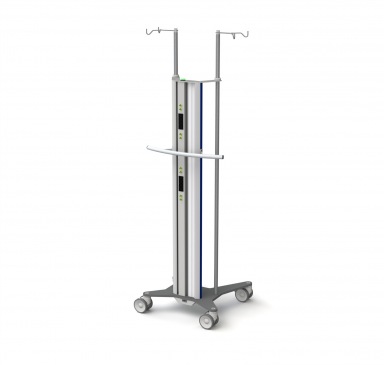 Flexx one IV+ Support de pompe à perfusion