Patient monitoring & ventilation
A very compact equipment set-up is realized on this cart for patient monitoring and ventilation. The attached screen is height adjustable and the cart is equipped with a drip stand that can also be used to attach Automated Infusion Systems. The swivel arm on the left side is used to guide the ventilator tubes to the patient.
The cart configurations as shown, is contains the following equipment:
1x Dräger Medical C700 of C500
1x BBraun Automated Infusion System
1x Drager Oxylog 3000 ventilator
2x oxygen bottles for the ventilator
The modular concept of this cart makes it to configure it according to customer requirements. Please contact us to discuss the possibilities.
The above mentioned applications are configurations based on our standard medical carts. These standard carts are modular in design, allowing to create any configuration according to customer specification. This means that the displayed cart configurations can be adjusted as desired. This includes for example removing or adding a shelf, bottle bracket or other components. In case a desired item is not part of our standard product range, it is also possible to deliver custom made parts. In this case we can design the required item, and produce this design for you. Please contact our sales department to discuss the possibilities.
Zusammensetzung
Geen samenstelling beschikbaar, kies een andere afbeelding.
Die oben ausgewählte Konfiguration besteht aus den nachfolgend aufgelisteten Teilen. Für weitere Informationen empfehlen wir die verfügbare Dokumentation auf der Registerkarte "Downloads". Für ein unverbindliches maßgeschneidertes Angebot können Sie jederzeit auch Kontakt mit uns aufnehmen.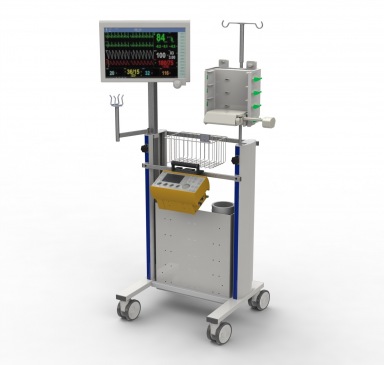 - Patientenüberwachung & künstliche Beatmung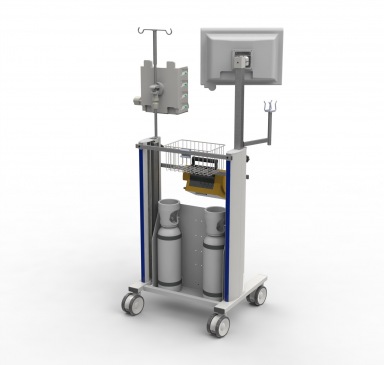 - Patientenüberwachung & künstliche Beatmung